Article published in cafleurebon.com. 
---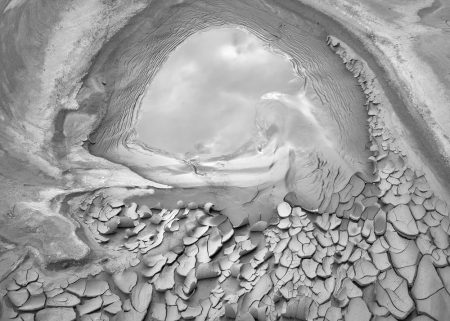 Cracked mud and pool. Huntington Witherill Photography
While others soar,
And flap before
They take to flight,
I remember where to turn my might:
The earth can more.
——–dana sandu's poem for Maison Incens Musc Dahabii
In deep pits wet and tepid, all women dig for clay. Every once in a while, the earth takes one of them as the hole closes under its own weight- but as the world is big they nowhere stop digging for clay, as if drowning in it is unmentionable like a debt paid. On the way back to the village they sing, back curved against nature under their sticky burden, clouds over their foreheads and chatter right under. As steps get harder, pain bubbles up through the muscles and into throats, and someone starts singing.
As their own burdens become too heavy to bear, others join, trilling as they strain, louder and louder as they get more tired. By the time the group gets home, the song pours from lowered heads and into the ground, angry and hot, like a scolding. To make a dirt home you start with clay, water, grasses, and the best brown a cow can offer (or any other other vegetarian, slow, readily-willing-to-poop-for-free domesticated creature). Everything has to be just right: the grasses—dry but slightly flexible, still pungent from its planty spirits; the dung patties—slightly fermented and animalic-sweet, bringers of stability and connection. And if the digging and the carrying were full of song, mixing clay is the stuff for dancing.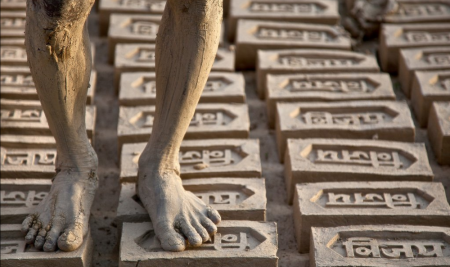 Brick master's feet. Photo by Lisa Kristine
And so they dance: holding hands, skirts tied at the waist and chatter resumed, they dance as they mix the clay with their heels, squelching and aching with every liberation of a bare foot. Sweat starts dripping as the sun gets hot, no shade to help, and so they stew and dance, ever new sweat dripping on top of the old one, thick and pungent and going into the clay, until they're done. And when they're done, it's time for touching.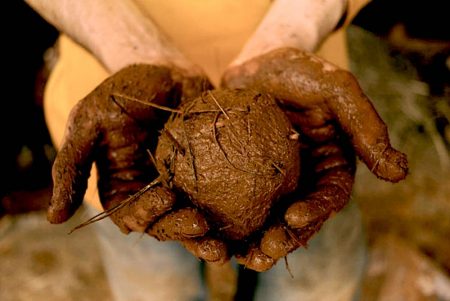 Clay ball. Copyright survivallife.com
The men have been building wooden, bone-looking scaffoldings all day- the air is thick with their own kind of sweat, smoke from their pipes and lunch cauldron, and the  earthy-sweet smell of the mats they rest on. When women come, they step aside- it's not for many to sculpt a home, and not easy. The clay mix is scooped by hand, made round, then rolled between the palms until it becomes docile- then, and only then, it becomes walls, every lump caressed and whispered to like a baby.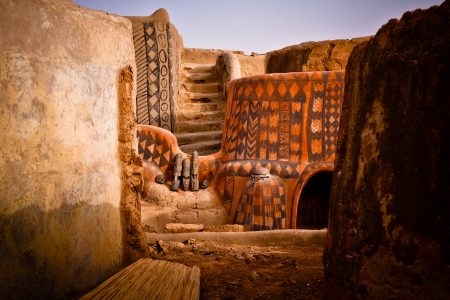 Mud huts in Tiebele, Burkina Faso. Copyright faena.com
Maison Incens Musc Dahabii is like sitting in the finished hut, spent, sweaty, melting your own self into the undried, cool floor to finally make it a home. In a way, it's like looking down to where you your feet already are, instead of looking out to where you're going; better yet, it's like a collective memory as opposed to the self-imagined future.
Maison Incens Musc Dahabii is one of the rare compositions where things don't start and things don't end: like a dirt hut holding symbolistic simplicity built out of a mere few elements, it presents full frontal as what it is: a deeply ingrained, disturbingly familiar, universally understandable, and highly personal scent.  Hot, vegetal-but-deep animalics blend with honeyed woods, earthy aromatics, pungent smoky haptics and sticky balsams to create an effect that is unexpectedly burdening, historically atemporal, and as grand as the first clay hut built by humans.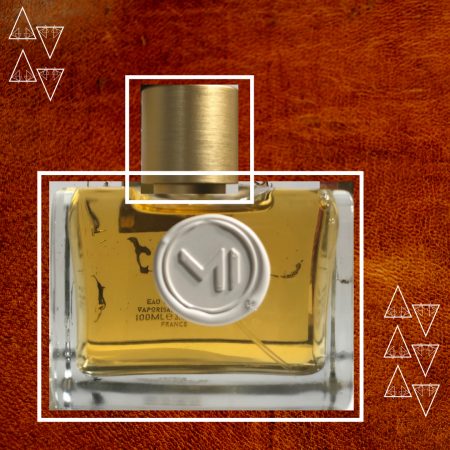 Maison Incens Musc Dahabii. Collage by dana
Official notes: bergamot, lemon, musk, rose, leather, orris, sandalwood, vetiver, white flowers
(Perceived accords: honey- propolis– vetiver- birch- frankincense– myrrh- calendula- capsicum- sage- musk- labdanum- sun aldehydes (do they even exist??)- rose- Peru balsam- ylang- styrax- hay- salt- stone!)